Have a disability and a dream for a business? Ask us about the Entrepreneurs with Disabilities Program (EDP).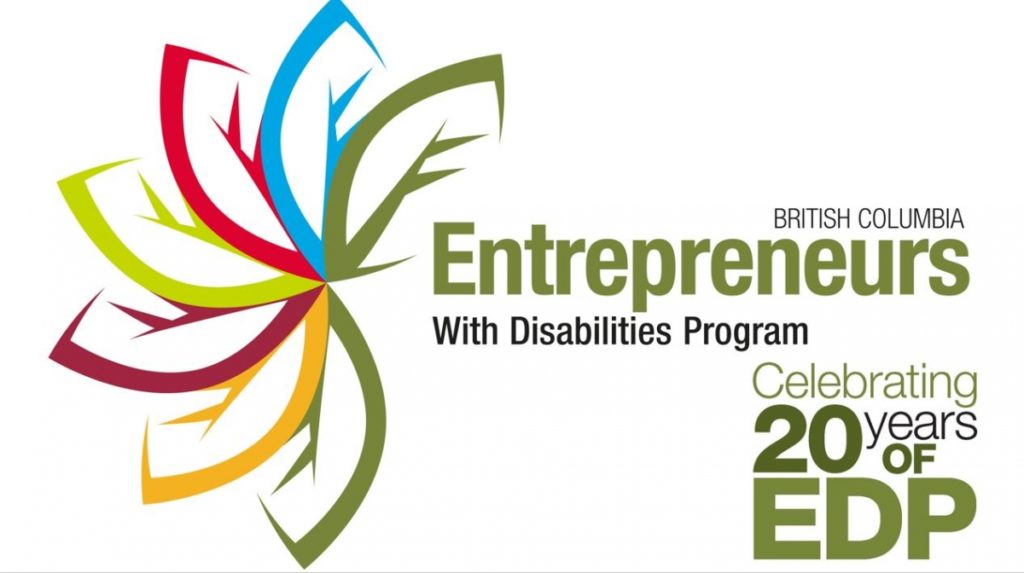 If you are in business and making some sales but need additional support, you could be eligible for a business loan, one-on-one business skills coaching and advice. To be eligible you must:
self-identify and disclose a disability or ongoing health issue
have a viable business plan and demonstrated investment in your business
be ready, willing and motivated to run your own business
be creative, resourceful and ready for change
Here is a non-exhaustive list of health conditions that qualify for the Entrepreneurs with Disabilities Program:
A
Amputation
Alzheimer's Disease
Amyotrophic Lateral Sclerosis (Lou Gehrig's disease)
Ankle Surgery
Anorexia Nervosa
Arthritis
Asperger Syndrome
Asthma
Attention Deficit Disorder
Attention Deficit Hyperactivity Disorder
Auditory Processing Disorder
Autism
Auto-Immune Disorder
B
Back Injury
Bi-Polar Disorder Bladder Disorder Blindness
Bowel Disorder
Brain Injury
Brain Tumour
Broken Bone(s)
C
Cancer Cavus Foot
Cerebral Hemorrhage
Cerebral Palsy
Chemical Sensitivities
Chromosome Anomaly
Chronic Fatigue Syndrome
Chronic Inflammatory
Chronic Obstructive Pulmonary Disease
(COPD)
Chronic Pain
Crohn's Disease
Cognitive Impairment
Congenital Adrenal Hyperplasia
Congenital Heart Defect
Congestive Heart Failure
Coronary Artery Disease
Cystic Fibrosis
D
Deafness
Degenerative Disc Disease
Demyelinating Polyneuropathy
Dementia
Depression
Developmentally Delayed (DD)
Dexterity Issues
Diabetes
Diabetes (Type 1)
Dissociative Identity Disorder
Down's Syndrome
Dyslexia
E
Electrocution
Elimination (bowel or bladder functions)
Emphysema Epilepsy
F
Failed Back Syndrome
Feeding (cannot feed themselves or takes significantly longer)
Fetal Alcohol Syndrome
Fibromyalgia
Foot Ulcers
Fused Wrist
G
Generalized Anxiety Disorder
H
Hearing Loss
Heart Attack
Heart Defect
Heart Disease
Hepatitis
Herniated Discs
Hip Injury/Pain
Hip Replacement
HIV
Huntington's Disease Hypothyroidism
I
Ileostomy
Intellectual Disability
Irritable Bowel syndrome (IBS)
J
Juvenile Arthritis
K
Knee Injury/Pain
L
Learning Disability
Lumbar Disc Disease
Lupus
M
Mobility Issues
Mood Disorder
Motor Vehicle Accident
Multiple Sclerosis
Myasthenia Gravis
Myotonic Myopathy
N
Nerve Damage
O
Osteoarthritis
Obsessive Compulsive Disorder
Oppositional Defiant Disorder (ODD)
P
Paralysation
Physical Impairment
Post-Polio Syndrome
Parkinson's Disease
Personality Disorder
Post-Traumatic Stress Disorder
Polycystic Kidney Disease
Polyneuropathy Psychotic
R
Rheumatoid Arthritis
S
Scoliosis
Social Anxiety Disorder Schizophrenia
Speech Impairment
Sleeping Disorder
Spina Bifida
Spinal Stenosis
Selective Mutism
Spastic Paralysis
Spinal Disorder
Spinal Injury/Pain Stroke
T
Trigeminal Neuralgia
Tourette's Syndrome
V
Vision Impairment
W
Walking Impairment
Support for your business
Those who have been accepted for EDP Business Assistance may receive:
help with business plan preparation
general business skills training for day to day operations
business coaching in key areas such as marketing or sales
help and advice with cashflow, bookkeeping and reporting
Rural EDP Assistance and Loans
Although preference is given to business owners applying for Community Futures loans, you may still be eligible for EDP assistance. You will need to meet with our Community Futures Business Analysts to verify that your business has the potential to succeed and that you need extra support.
For more information about the EDP program and the available programs, please visit:
https://www.communityfutures.ca/services/entrepreneurs-with-disabilities
Book an advisory session with a
CFGT Business Analyst
Book you free EDP advisory session here