Amenities
Community Futures South Kootenay offers two professional business meeting rooms to host meetings, workshops, and video conference sessions. Both rooms have wireless internet through our fibre optics network. In addition to the room amenities outlined below, additional presentation equipment such as flip charts, DVD/VCR player and overhead projector are available upon request.
Board Room: Our 880 square foot Board Room comfortably seats 22 at the Board table and includes a dual sided electronic scan dry-erase white board and 4700 lumen LCD projector. Our Board table contains twelve computers with 19 inch widescreen monitors under the glass surface.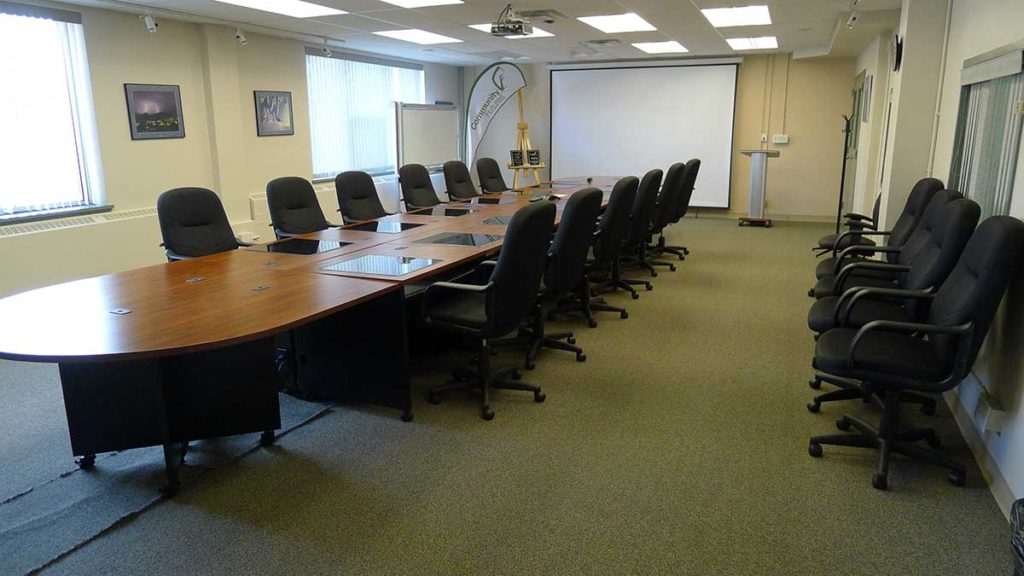 Meeting Room: Our smaller 240 square foot meeting room seats 8-10 comfortably around the meeting table. There are two dry-erase boards and a 47 inch LCD television for presentations or video conferences using Skype or our dedicated video conference system.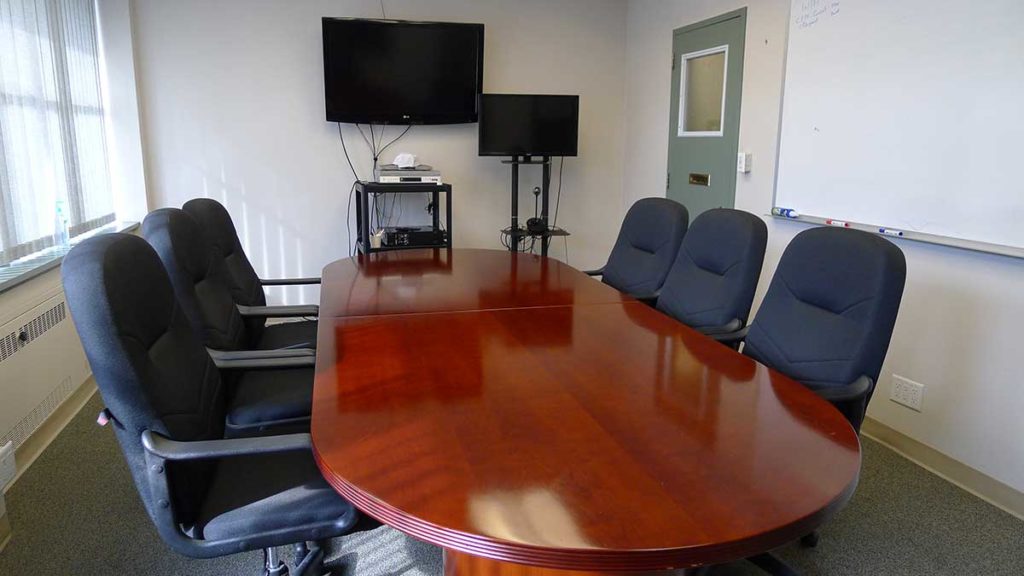 South Kootenay Business Centre (SKBC) Board Room: An additional 465 square foot board room is available for rent in the SKBC located in the CFSK building. Please visit https://www.skbc.ca/availability-pricing/ and contact us for availability and pricing.
Private & Secure Video Conferences
When booking a private and secure video conference you will be asked what cities/endpoints you wish to connect to. If you will be connecting to a system outside the CFSK video conference network you will be asked which site should initiate the connection. If your location initiates the call you will be provided with our IP address. If the remote city initiates the call we will provide our IP address.
Conducting a test connection a day or two in advance of the conference is highly recommended and will be conducted without charge. If you wish to broadcast a computer presentation we highly recommend the presenter participates in the test call with their laptop connected. If you are unfamiliar with our facilities we suggest arriving 5-10 minutes prior to the video conference start time to become familiar with the system capabilities.
How to Book
To book, for more information or to request a quote please call (250)364-2595 ext. 21 or email info@communityfutures.com.
Our facilities are available during regular business hours only between 8:30 am – 4:30 pm, Monday to Friday. Bookings outside of these hours are subject to additional staffing fees based on needs. Please contact us for those details.
All bookings require a 50% deposit.
---
Fees
Video conference fees for private and secure connections consist of a standard hourly system rate plus room fee. Reduced rates are available for non-profits and recurring rentals. The maximum daily charge is $500/day noninclusive of technical or administrative supports.
| | |
| --- | --- |
| Board Room | $100 per hour |
| Meeting Room | $50 per hour |
| Video Conferencing 1, 2 | $50 per hour plus room fee |
| Optoma LCD Projector | $50 per meeting |
| Polycom Conference Phone | $40 per meeting |
| Computer Systems 2 | $10 per computer used |
| 50 inch plasma TV | $10 per meeting |
| Photocopies | $0.12 per copy |
| Technical Support 3 | $60 per hour |
| Administrative Support 3 | $50 per hour |
Non-standard connections may invoke additional third party fees.
Software setup/removal or presentation assistance may invoke technical support fees.
All support requests are dependent upon availability and must be requested in advance.