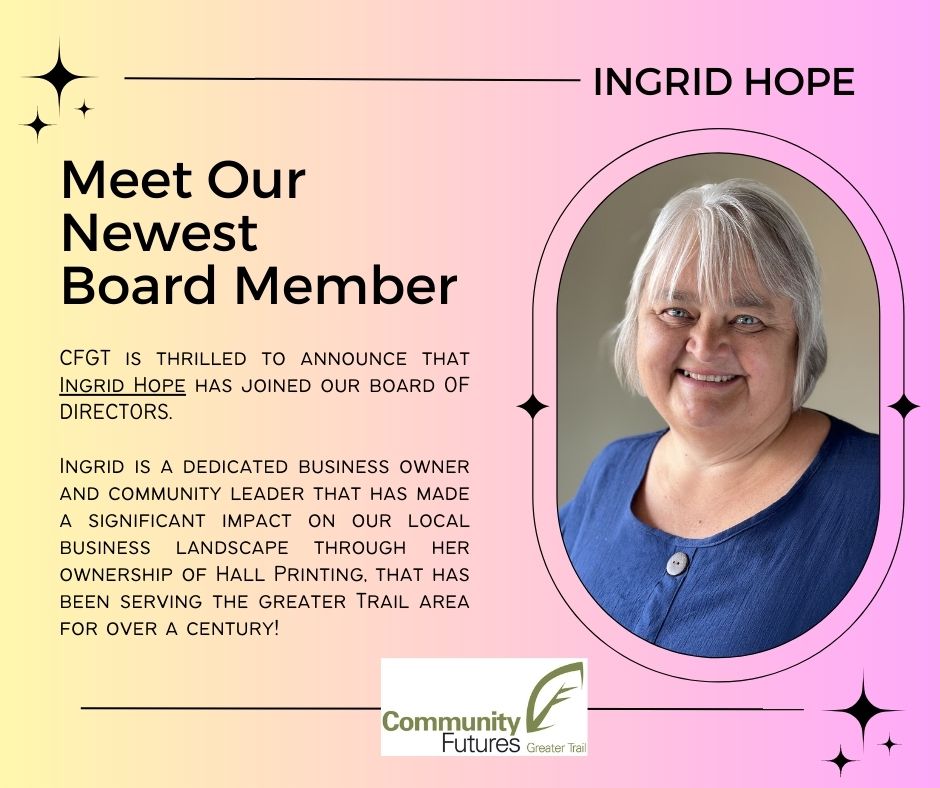 CFGT is thrilled to announce that Ingrid Hope has joined our Board!
Ingrid's journey with Hall Printing began 32 years ago when she joined the company as an employee. Through her hard work, determination, and unwavering commitment, she steadily climbed the ranks and eventually took over the reins in 2005. Under her capable leadership, Hall Printing continued to thrive and opened a second location in Nelson.
After an illustrious career spanning over three decades, Ingrid decided to retire in 2022, passing the torch to her son, Mackenzie, who now oversees the operations of the business. This succession ensures the continuation of Hall Printing's legacy and commitment to excellence in the printing industry.
Outside of work and family life, Ingrid is an avid sports enthusiast and outdoor adventurer. She finds joy in activities like curling, skiing, biking, boating, and camping, often embarking on these adventures with her husband, Ron, and their family. Exploring new places through travel is also a passion of hers, as she loves to experience different cultures and create lasting memories.
Ingrid's dedication to both business and community has not gone unnoticed. In 2012, she was honoured with the "Influential Woman in Business" award, recognizing her outstanding contributions to the communities in which they serve. In addition to her professional achievements, Ingrid generously volunteers her time to various community organizations. She currently serves as the president of the B.V. Thriving Community Society, holds the position of secretary for the Lower Columbia Affordable Housing Society, and serves on the Small Business Round-table for B.C. We are thrilled that she has chosen to serve on our Board of Directors, further demonstrating her commitment to supporting the growth and development of our local business community.
Ingrid Hope's legacy as a successful business owner, an active community leader, and community volunteer, is a testament of her unwavering passion and dedication to making this region a better place for all.
"We're local and we care about every business around here. We want to see everyone succeed."
– Ingrid Hope –